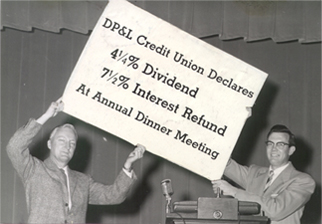 About Incenta Federal Credit Union
Incenta Federal Credit Union is a full service financial institution. We were established in 1935. We are a member-owned not-for-profit financial organization operated by members for members. Because we are not-for-profit, we are able to offer financial services to you at little or no cost, and return excess earnings to you in the form of dividends (interest).
What Is A Credit Union?
A credit union is a cooperative financial institution, owned and controlled by the people who use its services. These people are members. Credit unions serve groups that share something in common, such as where they work, live, or go to church. Credit unions are not-for-profit, and exist to provide a safe, convenient place for members to save money and to get loans at reasonable rates.

What makes a credit union different from a bank or savings & loan? Like credit unions, these financial institutions accept deposits and make loans--but unlike credit unions, they are in business to make a profit. Banks and savings & loans are owned by groups of stockholders whose interests include earning a healthy return on their investments. Credit unions are not in business to make a profit, but are able to return excess earnings in the form of lower rate loans and higher rate savings.

The Credit Union difference is a philosophy of "People Helping People".